Fire burns betta fish first Armageddon,Vanda and Dark Armageddon
If talking about Siamese fighting fish with patterns like fire or meteor, it is inevitable to talk about colored fish fighting Armageddon or Vanda.
Which is a unique fighting fish and is the only type of fighting fish that grows more beautiful Because the red spots along the fins will become more prominent and clear as he gets older.
Breeder Success the Siamese fighting fish come up fire betta fish
Back in 1999, the first breeding group, Somkiat Intamu from Aquastar71, developed Betta fish this color to be the first to be inspired by the movie Armageddon. He has tried many methods and has tried breeding many times. But it is not successful, and in this article we will talk about the beginning of success in bringing fire fighting fish.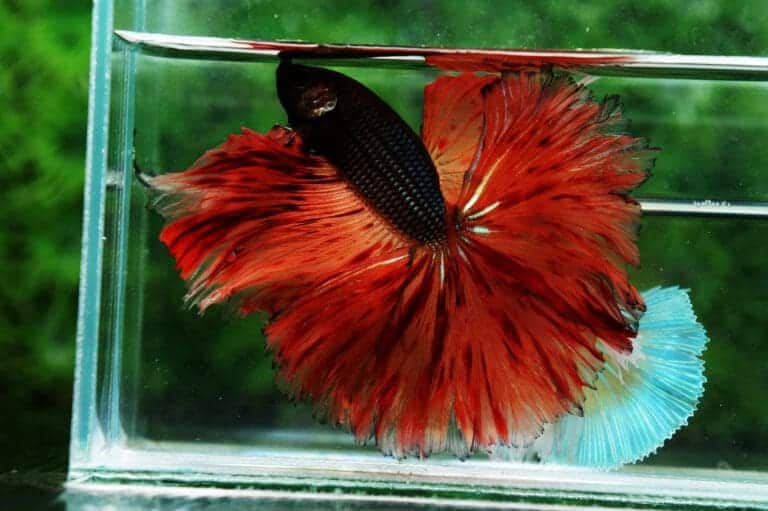 Origin of the first Armageddon fighting fish
Armageddon or Vanda in the past started with the development of the color Choco Orange, after which it was cultivated with yellow or orange by creating blood for these two colors.
The first successful colors were Dark Armageddon, but they were not successful due to the unwholesome bloodline.
Once the Dark Armageddon culturers are finished, they will need to Inbreed this color by 3 generation to create a pure blood lineage. Which will take 1-2 years to get a pure blood lineage
At this point, it is not difficult to understand how Armageddon or Vanda came.
The fish breeder will start by bringing the breeder Dark Armageddon breed with the female color or pure yellow color.
Will produce a fish with Armageddon or Vanda color, but that is still not quite successful. Because of the success of this color The fish will have a lot of black soot. That's because the bloodline of this species of fish is not pure. Breeders must be Inbreed by choosing this color with few soot. To cultivate the least body to be successful, it is necessary to have more than 3-4 Generation to be a breed that has pure blood without soot in the body.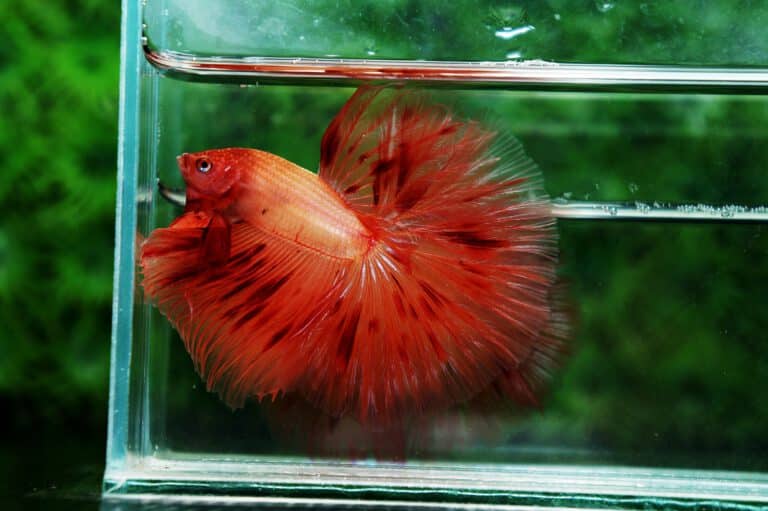 Armageddon meteor betta fish
Armageddon is currently considered to be a color that is not very available in the market due to the breeders who breed less.
And not as popular as in the past, but still a color that is not difficult to raise as well
But Dark Armageddon is the color that is hard to find because the breed is not popular. That's because
Armageddon or Vanda and Dark Armageddon are older fish that have red spots on the fins that are pronounced and beautiful, while Dark Armageddon is already dark. It is necessary to wait longer than Armageddon in general to be fully beautiful and to the market. Most age ranges from 6-8 months or 1 year
In which there is a very high chance that the fish will lose their fins or become sick before reaching the owner
Recommend Armageddon is one color betta fish when fish more older will more beautiful. Because red spot on fin will more strong look like firer.
What do you think with this color? Please comment bellow!!
Also we have group talk about betta fish for sale and share any new tip information in betta fish community also betta fish auction